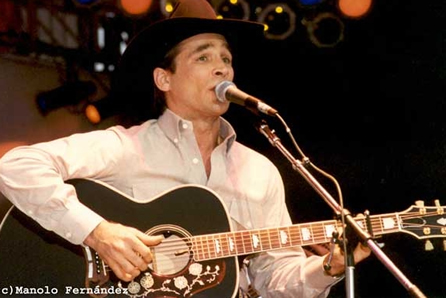 Clint Black
Notes by Gary Mobley
One of the top names in Country music over the last 16 years or so, Clint Black has won numerous awards and sold millions of albums. His distinctive voice and songs set him apart from anyone else in Nashville.
When I met him at one of my first Summer NAMM shows in Nashville, I remember how down-to-earth and humble he was and how he wanted to put the emphasis of the conversation on our products and not his latest album. Later when I got invited to a show here in California, I saw him at the "meet and greet" and presented him appropriately with our very first black capo.
Clint's a true guitar picker (and also plays mean harmonica and even drums) with many influences including rock, as evidenced when his band stretched out that night and played a Steely Dan tune!
---
Addendum, by Rick Shubb:
Not too long ago I had the privilege of playing on a show with Clint. He was a surprise guest on a show featuring cowboy music, and I got to back him up on his version of Desperado… which brought the house down. Working with him in reheasal and hanging out in the camp, my impression was exactly like Gary's (above): a really genuine guy, not overly impressed by his own stardom.