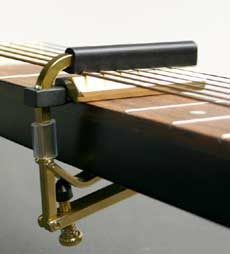 Our Dobro capo is similar in most ways to our guitar and banjo capos. For any issues relating to the sleeve, pad, screw, or other mechanics, see our service section on CAPOS.
Most issues specific to the Dobro Capo have to do with the piece that goes under the strings, which we refer to as the Dobro Piece.
Our Dobro capo features a user-adjustable dobro piece. It can be rotated to either 3/8 inch height, or 7/16 inch height, to accommodate these different string actions. See instructions for making this adjustment here…
Does your instrument have very high action? If you have set the dobro piece at its 7/16 inch height, and it is still too low, then it requires a special 1/2 inch dobro piece. You can send your capo to us and we will retro-fit it for you at no charge.
Is the Dobro piece on your capo wearing out? Part of it works just like a fret on a guitar, and like frets that get heavy use, eventually it can wear wear down. Give your capo a "fret job" …the piece is easy to replace.
Replacement sleeve for dobro capo…
To accommodate a thicker neck, all you have to do is to rotate the rubber sleeve a quarter turn. It works beautifully!