Herb Pedersen
notes by Rick Shubb
I've know Herb Pedersen for a very long time. When we were both still teenagers we were among a handful of pioneer bluegrass musicians in the S.F. Bay Area.
We each played long and memorable stints on banjo with the powerhouse vocal duo of Vern and Ray (Vern Williams and Ray Park). When Herb joined them, replacing me, he added a soaring high baritone above Vern's tenor. When people first heard their dynamic "two above the lead" vocal choruses they practically peed in their pants, and that incredible trio sound is still legendary among California bluegrass fans.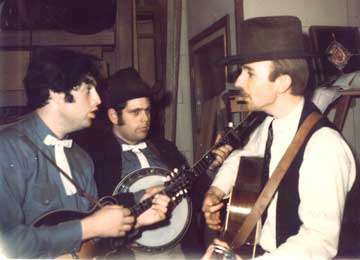 Herb and I got a chance to play together in a band for about two months. When David Grisman came to California in 1966 he and I formed a band, The Smokey Grass Boys. Our first guitar player wasn't working out, and we recruited Herb Pedersen. You would think a super-band like this would draw big audiences, right? Well, it was a different time. Our main gig was at the Cedar Alley Coffee House in S.F. every Thursday night. Sometimes the four-piece band outnumbered the audience. Our pay was supposed to be half of the door, but it was usually so small they gave us all of it, and it still didn't cover bridge toll and parking. But you know what? The music was pretty damn good.
From there, Herb moved to Nashville; ostensibly to play with Vern and Ray. That didn't pan out, but Herb went on to carve out a long and distinguished career for himself, first in Nashville, and later in Southern California, playing and recording with many of the top names in the music business.
When I started exhibiting at the NAMM shows in Anaheim, I ran into Herb again after many years, and we've managed to keep in touch for a few minutes a year at our trade show booth, and of course, through the magic of the internet.
In 2014 my company was asked to sponsor a music event in which Herb was one of the primary players, but I learned that Herb was using a different capo on his banjo. He favored a screw-operated capo, the type that remains on the instrument when not in use. I had long been aware of a preference for this U-shaped style of capo among bluegrass players. In fact, ten years earlier I had designed such a capo that employed a few unique features of my own, and I called it the FineTune capo. But I had never produced it. When I described it to Herb, he said "if you make one like that, I'll be on board in a minute."
The drawings had been on my computer(s) for more than ten years. I had started out to produce it half a dozen times, but didn't proceed for various reasons. Now, Herb had motivated me. About a year later, the first prototype went to him. He made a design suggestion, and about two months later, he got the second prototype. It's still on his banjo. And the FineTune capo is now on the market. Thanks, old friend.