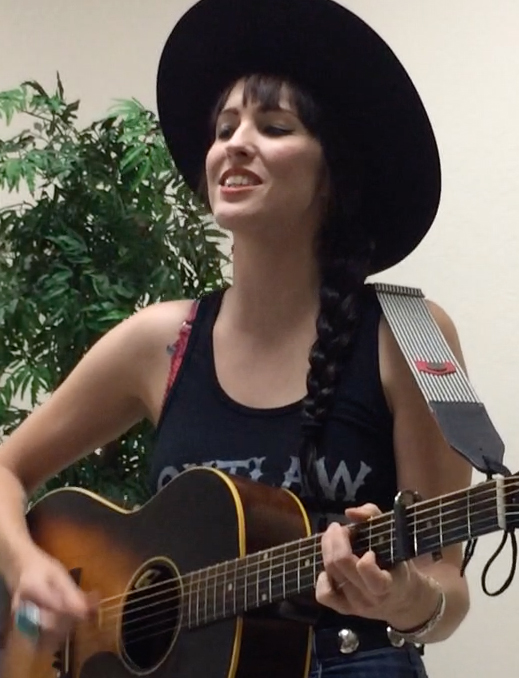 Jaime Wyatt
     notes by Rick Shubb
The NAMM show can be loud at times; halls the size of major sports arenas, filled with music products companies demonstrating their wares. At the 2015 show, on Saturday afternoon, two friends of mine came to the booth while Jaime Wyatt was singing for us. They had been in the next hall, and somehow – amidst the cacophony of random instruments and electronic gear – Jaime's beautiful voice had managed to shine through like a beacon. They followed the sound to our booth, where they were rewarded by listening to the rest of Jaime's set.
Later that same year, Jaime stopped by our office and sang a few songs for us at our lunch break. She said it was her first "office concert", and the sort of thing I'd like to encourage more of. What a special treat that was, and how thoughtful of an artist on tour to take time to pop in and visit with a company that makes some of her gear. It was appreciated, and thoroughly enjoyed by our whole crew.
The following year she joined us again at our NAMM booth, this time bringing her group with her, which proved to be one of the highlights of the show for us. See the video below.
Her Shubb Capo is an important tool in performing her music, and we are pleased to include this lovely and talented singer and songwriter as part of the Shubb family of artists.
"With my Shubb Capo, I can do anything!"
We believe you, Jaime!