James Burton
     notes by Rick Shubb
Many years ago, at the Summer NAMM show in Nashville, James Burton stopped by our booth. He was in a hurry. He was on his way to a recording session, and he needed a capo. I didn't need to extol the virtues of my capo to him, he already had one or more; it was his favorite capo. He just didn't happen to have one on him at the time. Capo in hand, he quickly vanished into the crowd.
As soon as he left I pondered, Wow, that was James Burton! I didn't even know he used a capo. It makes sense, though. He practically lives in recording studios, playing every kind of music that comes along. And besides being a valuable tool for performing, a capo is an essential piece of studio gear.
Truly a living legend, James is especially revered by his peers in the guitar world. He is best known for his lead guitar work on the classic recordings of Elvis Presley, Ricky Nelson, and literally dozens more of the biggest names in the music business. His discography is staggering. He's currently as active as ever, and very much a force in today's music.
While being in constant demand for sessions and shows, he has found time to organize the James Burton Foundation, promoting music education for children, and to host the biannual International James Burton Guitar Festival.
Our sales manager Gary Mobley has been to Shreveport to exhibit for Shubb Capos at the James Burton Guitar festival. He always has a great time, gets to hear some of his top guitar heroes, and has gotten to know James and his family. They are warm and friendly, and make Gary feel right at home.
When we began featuring some artists in our magazine ads a few years ago, naturally we thought of James, and he agreed to participate. So why did it take almost three years before his ad appeared? It took than long before he slowed down long enough for anyone to take his picture! Seriously, this guy has such a whirlwind schedule, it is amazing. When we were still trying to schedule a photo, Gary got off the phone with him and told me, "that was James Burton, on his cell phone. He's in the studio right now with Willie Nelson and Ray Price, but he has to catch a plane in two hours. He'll call back tomorrow. " Business as usual for James.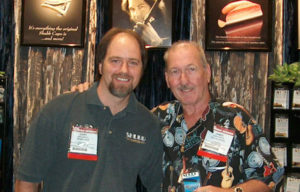 You might think that someone who had amassed a discography the size of an unabridged dictionary, worked with the biggest stars in the business, and is in the Rock and Roll Hall of Fame might rest on their laurels, just a little. Well, not James Burton. He is a working guitar player if there ever was one.