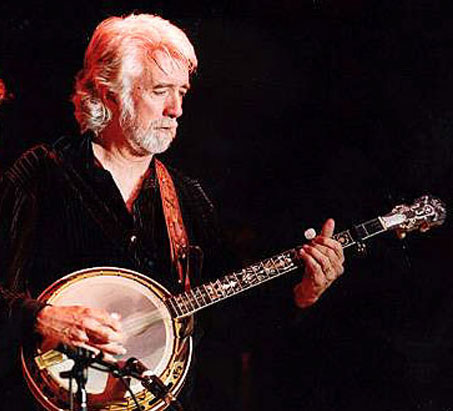 John McEuen
     notes by Rick Shubb
He's been called String Wizard, and it suits him. He not only plays like a wizard, he even looks a little like Saruman the White. I think somebody else already snapped up Lord of the Strings, but that would be a good nickname, too.
The Nitty Gritty Dirt Band is one of the most venerable groups ever, but John has also performed in many other contexts. Working as a solo, John McEuen was the first person I ever heard play classical music on the 5-string banjo, years before Bela Fleck. I don't remember now what the piece was, only that it was intricate and beautiful.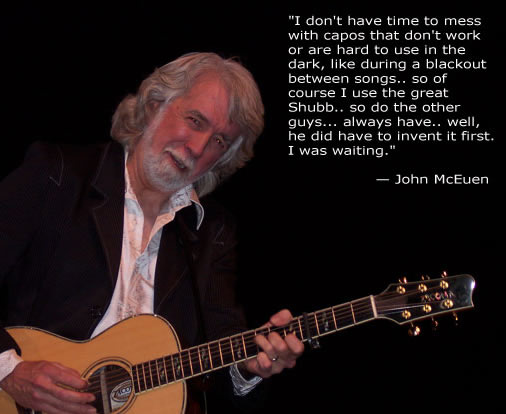 Always a pioneer, John was one of the first prominent players to discover Shubb capos, and soon all his friends were using them. They began using my name with a lowercase "s", as a generic for capo ("hey, got an extra shubb?") On the inner jacket of Circle II, there's a closeup of a Shubb capo on a mandolin neck, vindicating mandolin capo users for all time.
I tend to hear from John when he's down to his last capo. He doesn't lose them, or wear them out. He gives them to friends. He loves turning players on to Shubb capos, but I doubt he'd let go of his last one.
I played on stage with John only once. He might not remember it. Circa 1970: I was playing banjo with the powerhouse bluegrass vocal duet of Vern Williams and Ray Park, and we were opening for the Byrds at the Ash Grove in Los Angeles. There were a lot of great players in the house that night, and for one of the sets we had an "all star jam" that included me, Vern and Ray, along with guest stars Byron Berline, Roger Bush, Chris Hillman, Bill Keith, John McEuen, and Clarence White. Pretty heady company for me, but John McEuen does that sort of thing all the time.