Richard Gilewitz
     notes by Rick Shubb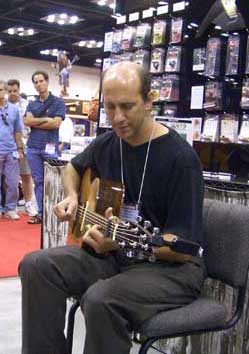 Some of the fine musicians who use our products have come to feel like family to me, and that is definitely the case with Richard Gilewitz. It is a friendship beyond the bounds of artist endorsement.
Year after year as he travels the world performing and teaching, he continues to enthusiastically spread the word about our capos at seminars and workshops. I often receive emails from "the lucky winner of a Shubb Capo" at one of his workshops, always praising his musicianship and engaging personality.
Last year he sent this picture from Ireland: his entire class from a community college seminar, all displaying Shubb Capos catalogs. How could I not love this?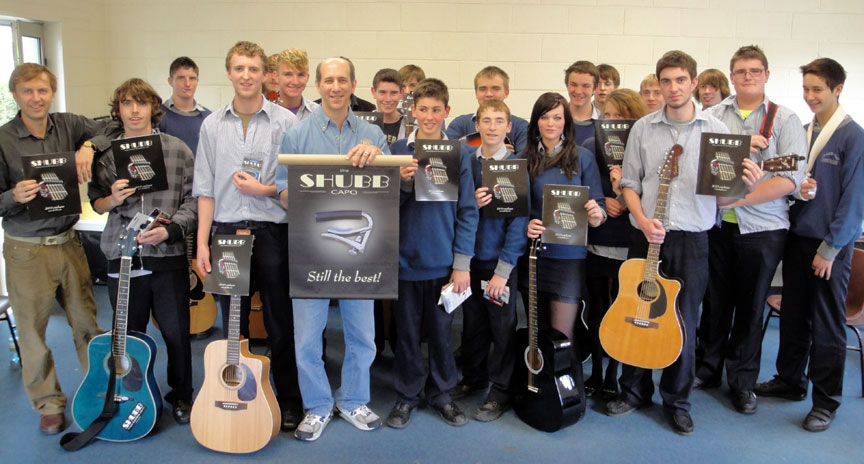 At this year's NAMM show in Anaheim we were going to be short-handed at the booth, and without a lot of advance notice we asked Richard to step in and help. He had played at the booth many times, but this would be his first time in the role of host and spokesman for the products and company. He handled the assignment skillfully, and shortly afterward he wrote an article about the experience called The Other Side of the Aisle.
Thanks, Richard, for your support, your music, and your friendship. You're one of a kind, bro.