Roy Rogers
"Shubb capos NEVER fail me and – as you know, I use capos A LOT in performance. You deserve all the kudos you get and more- great product, lots of integrity, straightforward business – no BS—the way it should always be!" — Roy Rogers
notes by Raul Reynoso: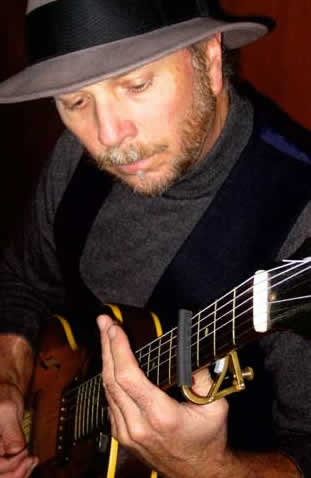 A number of years ago, I was playing a private show in Northern California, playing mostly acoustic, some electric, and generally supporting other artists during their sets, something I really enjoy doing. Late on this particular evening I was playing a Gypsy style guitar doing some Django Reinhardt music, and on a break, I was asked if I would do a couple of songs with Roy Rogers. Knowing that the Cowboy Roy Rogers was no longer with us, (I was a huge fan of his,) I figured someone was pulling my leg. I was then told, "This Roy Rogers is a local guy, great Blues player, you'll love him."
I was then introduced to a polite, soft spoken man with a Martin flat-top guitar and Shubb Capo, thanking me for playing with him. I asked, "What shall we do?" He said," Let's do this one in A, and this one in E, pretty simple stuff." He then proceeded to play a great short set – great sound, singing, and killer slide guitar.
I've since had the opportunity to play with him informally, and all I can say is, "We need to do more!"