Tierra Negra
notes by Rick Shubb
We met Tierra Negra, Raughi Ebert and Leo Henrichs, at Frankfurt Musikmesse. They were interested to discover Capo Noir (our capo in black chrome finish) in keeping with their name Tierra Negra, or black earth. They are now using them exclusively.
Their home base is Germany, but their music is distinctly Spanish; they call it Nuevo Flamenco.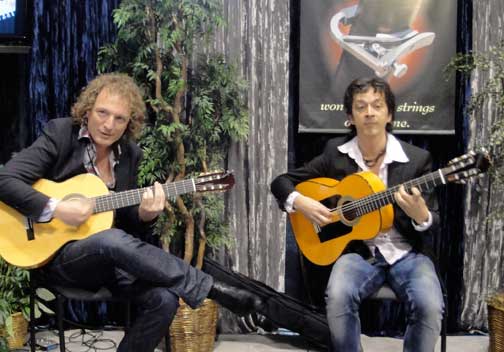 In addition to being fine players, Raughi and Leo are into the craft of instrument building. In conjunction with a top luthier in Spain they are producing a line of guitars that bear their own brand name, Tierra Negra. These are high-end, professional quality flamenco guitars.
The popular group Gipsy Kings discovered Tierra Negra guitars, and Raughi and Leo designed a special model for them, the Tierra Negra GK. In the course of working with them, they showed them their Shubb Capos and told them how much they liked them. Now the Gipsy Kings are all using Shubb Capos, as well.
A couple of years ago Tierra Negra made the trek from Germany to the States, where they found a whole new audience. They've performed at the prestigious All Star Guitar Night at the NAMM shows, and they often tour with Muriel Anderson.
It's a pleasure to be associated with such talented and energetic artists as Tierra Negra, whose enthusiasm for their music — and our capos — is infectious.